Hockey fans, take note! Daryl Katz, owner of the Edmonton Oilers, has just put his luxurious Vancouver penthouse up for sale. You can live your life just like a top hockey executive – if you can afford the $38 million price tag, that is. It's certainly worth the price tag, however – sitting atop the Fairmont Pacific Rim Hotel, every inch of the home is immaculately beautiful and modern, and the views are simply irreplaceable. Simply put, it is one of the finest residences Vancouver has to offer.
The spacious two level residence encompases nearly 6700 square feet, with four bedrooms and four and a half bathrooms. There is also over 2900 feet of additional living space outdoors. You are sure to spend many a night in the private courtyard and terraces, gazing mesmerized at the sparkling city lights far below you. Or, when the weather is too cold to be outside, the expansive and plentiful windows offer an excellent alternative. Indeed, nearly every room in the penthouse has floor to ceiling windows – you don't even need to leave your bed to gaze upon the beautiful Vancouver skyline!
The interior of the penthouse is picture-perfect – everything about it, from the pristine white walls to the contemporary design, appears to have been taken directly from a high end magazine spread., With details such as high end furnishings, a generous office space, and a convenient workout area, it's outfitted with everything today's busy executive needs.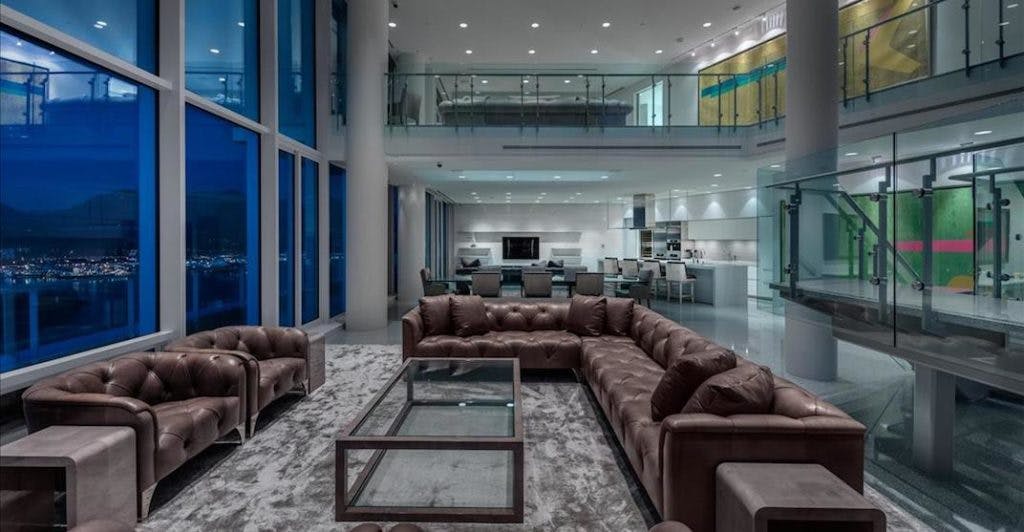 Everything about this home suits someone who appreciates the finer side of life. With only the best details and finishings, and an incredibly impressive view, this is not a home is not to be overlooked. Whether it matters to you that this is the previous home of an NHL team owner, everyone can appreciate the grand scale of this luxurious penthouse.
Listed with Angell Hasman & Associates Realty Ltd.
Sources:
http://dailyhive.com/vancouver/edmonton-oilers-owner-vancouver-penthouse
http://www.malcolmhasman.com/?content=luxurypropertiesgallery&ArtID=309