As one of the oldest neighbourhoods in Vancouver, First Shaughnessy is deeply ingrained in the city's history. The residences in this neighbourhood have seen the Vancouver grow from a small port town into a world class metropolis. These homes are grand affairs, with thousands of square feet to live and grow in, and well-tended lawns to frame the timeless architecture. These homes are beloved – after all, they're still standing a century later. However, we're living in 2017, not 1917. How does one respect the past, while living in the present? 1628 Marpole Avenue is the perfect answer.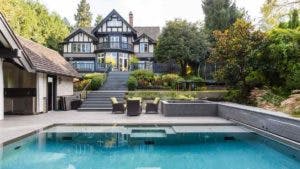 Thanks to a renovation in 2016, this mansion lives firmly in the present. Though sleek and stylish, it still respects the original aspects of the home with wainscotting, custom millwork, and other details throughout the home such as the rounded bay windows in the dining room. A common fixture at the turn of the last century, these windows brighten up the dining area while adding a pleasant view of the terraced gardens. While the gardens are just as beautiful as they were a century ago, they now also include an infinity pool, hot tub, and heated cabana.
There are so many more features to this home that make it exquisite, from the completely renovated dream kitchen to the entertainment room to the 1000-bottle wine cellar. The aforementioned dining room conveniently features a butler's station, making entertaining a breeze. Six generous bedrooms makes for plenty of room for the family, as well as guests. The master suite features its own study, for moments when seclusion and privacy are needed.
All in all, this historic mansion is a wonderful place to call home. While rooted in history, it is a modern masterpiece. Four floors built for a luxurious lifestyle wrapped up in a beautiful, classic exterior await you at this beautiful First Shaughnessy mansion.
Listed for $17,880,000 with Royal Pacific Realty.
Info sourced from:
http://dailyhive.com/vancouver/1628-marpole-avenue-vancouver