You wake up. You prepare your tea or coffee. And then, you walk out to the salty, fresh smell of the ocean, the aroma of your newly made beverage wafting from your mug. Or maybe, you stay in, a chill outside, the warmth of your cup in your palms, looking out to the bluffs across the water, a skiff of snow decorating their tops.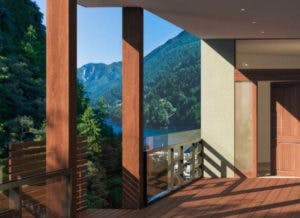 The Horseshoe Bay, by Westbank development, is luxurious inside and out. It's easy to live the West Coast lifestyle with this luxurious penthouse designed by architect, Merrick.
From the outside, the development stands proudly with contemporary, clean lines against a remarkable view of the mountains and Horseshoe Bay. With large, foliage covered mountains, and sparkling water, it is an iconic scene of British Columbia. To enjoy that view are outdoor living spaces with an outdoor kitchen and hot tub, with plenty of space to invite others to enjoy it with you. And for the colders seasons, there are floor to ceiling windows in the penthouse for continuing to savour the sights. Bordering the view is fresh, mid-toned woodgrain around the windows, bringing a little outdoors inside. Letting the view be even more brilliant, is contemporary white throughout the house as to not compete.
Inside the suite does not compromise either. The home is adorned with designer wool carpets in the bedrooms, to help those who are not morning people to rise with pleasure for the feet and eyes, and give a little extra pleasures to those who are morning people. In addition, the kitchen is equipped with professional series miele appliances. With the suite's airy layout across the whole 9th floor, you can appreciate the view as you create your culinary endeavors (whether just toast, or intricate four course meals). With 2,611 sq ft inside, and 1,748 sq ft outside, the penthouse has 4,359 sq ft of living space.
This penthouse is truly a wonder, an ideal home for fully appreciating the scenic aspect "Beautiful British Columbia."
Listed by RE/MAX Crest Realty Westside.
Source: http://remax-crest-vancouver-bc.com/luxury-collection/luxury-penthouse-searches/l/listing.r2127751-6695-nelson-street-west-vancouver-v0v-0v0.62641153