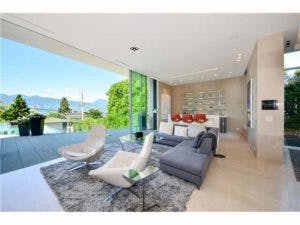 Each detail of this choice seaside address is ideal for enjoying the unobstructed ocean and mountain views of West Vancouver. The large windows open up the home to take advantage of "Beautiful British Columbia," with Jericho Beach elegantly framed. The open concept layout with high ceilings adds to the airy and spacious effect.
The walls and floors are mainly neutral, with whites and creams to brighten, and let the natural light keep the home bright. Some rich, mid greys give substance and stability for the lighter colours. The small pops of orange and red help to contrast the cool blues and greens of the foliage, skies and waters, as one more touch to enhance the already enchanting property.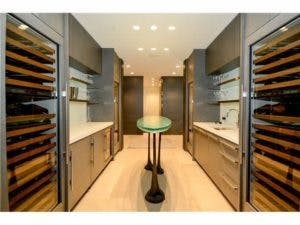 The home is constructed from contemporary steel and concrete, keeping the interior and exterior design simple and sleek against its backdrop. Part of that backdrop is an exquisite professional garden full of the lush green expected from West Vancouver. There is also a gracefully curved outdoor swimming pool for more leisure time outside.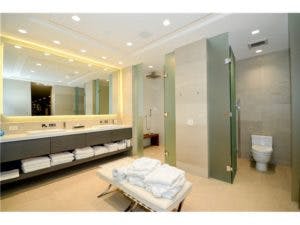 Atop this home, on the third floor, is a spacious roof deck with cover from foliage for privacy and shade on sunny days. A large portion is not obstructed by trees, to assure the views can still easily be enjoyed.
Inside are more features to enjoy, in case of rain, or enjoying the outdoors inside. The home has a wet bar, and a well-designed coach home for guest to stay. It also has a gym and a golf exercise room for fitness. And, for ideal reading, there is a sleek cubby with a high ceiling, to keep it from feeling confined.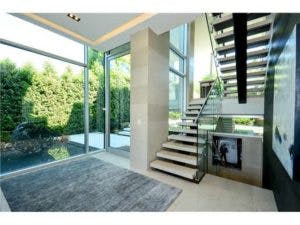 On an 11,136 sqft (66'8/168'53) lot, this home has 6685 sqft of living space with 4 bedrooms and 6 bathrooms the master bath and bedroom link seamlessly and are spacious.
The kitchen has granite counters to bring a natural material inside and stainless steel appliances to match the steel of the construction.
This home is ideal for those who love scenery and are looking for a choice location in Vancouver with contemporary design and luxurious features in the Queen Mary & Lord Byng catchment.
Listed by Macdonald Realty.
Source: http://macrealty.com/home/House-With-Acreage/4619-w-3rd-avenue/Vancouver/BC/V6R%201N5/mlsR2027937/rebgvvrebvirebomreb/